Buy Tickets Now
Tickets only available until 5pm on Saturday 30th May 2020.
THE ACTS
Kiri Pritchard-McLean
Your host is Welsh Comedian Kiri Pritchard-Mclean – a double Chortle Award winning stand up comedian, writer and satirist. Recent television appearances include Have I Got News For You, The Russell Howard Hour (which she writes on) and Stand Up Central. Kiri hosted both Stand Up at BBC Wales and Wales at the Edinburgh Fringe for the BBC where she introduces a throng of the most exciting comics in the UK. She will be in upcoming episodes of Hypothetical, Roast Battle and the Comedy Central Specials.
A regular on BBC radio, Kiri has appeared many times on The Now Show and the News Quiz. She often co-hosts on Rhod Gilbert's radio show and guest hosted Newsjack Extra. Kiri is a writing/ directing member of Foster's Comedy Award nominated sketch group Gein's Family Giftshop who have a third installment of their radio series in the pipeline.
Kiri is a co-creator and co-host of both the All Killa No Filla podcast and the live juggernaut Amusical. All Killa No Filla is a podcast about serial killers that has a gigantic following worldwide. Co hosted with Rachel Fairburn, the podcast's live adaptation sold out The Leicester Square Theatre in minutes and toured the United States. Amusical is a phenomena that started in Backyard Comedy Comedy and has run monthly for just over a year. Comedians sing their favourite songs from the musicals, hosted by Kiri with Jayde Adams and house band Dave and the Quavers. In the short time since it's conception it has sold out the Pleasance Grand in Edinburgh twice and been made into a pilot with Burning Bright for Comedy Central.
Rhod Gilbert
Born in Carmarthen, Wales, Gilbert first got into professional comedy back in 2002 after he participated in the Amused Moose Stand and Deliver course, which he credits his girlfriend for pushing him to do.
He has since completed numerous of tours around the UK as well as appeared multiple times at Edinburgh Fringe. He also performed for the Royal Family at the 80th Royal Variety Performance in December 2008.
As well as touring, the comedian has also carved himself a career in television and radio. He is a regular on a variety of different comedy television shows such as Mock of the Week, Never Mind the Buzzcocks, Have I Got News For You, 8 Out Of 10 Cats and he's also starred in BBC's Live at the Apollo.
Official website rhodgilbertcomedian.com
Jessica Fostekew
Jessica has been performing improvised comedy and working as a comedy actress since 2005. In January 2008 she hit the UK stand up circuit like a thunderbolt of joy and was a finalist in the Funny Women's Awards 2010.
Jessica co-hosts the mighty Guilty Feminist podcast which has reached well over 10 million listeners and is regularly in the Top 10 on the iTunes chart. She starred in this year's hugely acclaimed new BBC2 sitcom from Sharon Horgan and Graham Linehan Motherland as well as the award winning BBC1 drama Three Girls.
"Intensely funny" Time Out
'Fostekew is a hugely engaging presence and there's something reassuringly honest about her… Consistently hilarious' (Fest)
'Great fun' (Guardian).
Jessica Fostekew tour dates listed on Ents24.com since Feb 2008.
Official website jessicafostekew.com
Anna Man
Well known on the comedy circuit as one of the UK's best character comedians as Anna Mann, Colin Hoult's live shows have received a loyal following and great critical acclaim. A creative machine, Colin nurtured his cult following, performing a new live show every year at the Edinburgh Festival  between 2009 – 2011. His first, Carnival of Monsters, an original tragi-comic character sketch show presided over by a sinister Ringmaster, was hailed for it's fun and frenetic escapism, and was later picked up by the BBC who broadcast a two series version for Radio.
Nominated for Best sketch or Character Act  at the 2010 Chortle awards, Colin Hoult's TV credits include being a regular in Russell Howard's Good News for BBC Three, Al Murray's Multiple Personality Disorder for ITV and working with Ricky Gervais in Derek (ITV) and  Lifes Too Short (BBC). He is also known for being one half of the double act Colin and Fergus, and proud winners of the prestigious Writers Guild Award for Comedy.
First seen in A Sketch Show for Depressives, his latest creation and most loved character to date Anna Mann has been given her own Sky Arts Valentines Short, and is currently enjoying another theatrical outing in his latest show – How We Stop the Fascists. To coin one of Anna's catchphrases, the beauty of this character creation is that '..it's actually incredibly clever' –  even when it is being gloriously silly!
Music from James Morton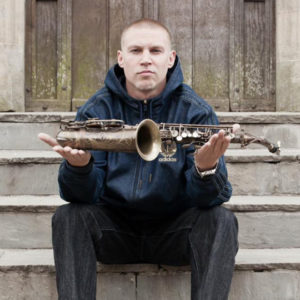 Funky jazz alto saxophonist. At 22 he gained his Masters Degree in Jazz. James has developed his unique voice through direct influences from funk, soul, jazz, gospel, latin and urban music. He has the ability to communicate to an audience through his saxophone and directly project deep emotion across to the listener in a lyrical style. In August 2014 he was appointed Mayoral Ambassador of Music for Bristol by Mayor George Ferguson.
THE EVENT
Enjoy some of the best comedy and entertainment out there from the comfort of your very favourite armchair. Our comics will be streaming from their homes all over the UK.
*Please note you will only be able to buy a ticket until 5pm on the day of the performance.*
The money we raise will be split between performers and the Trussell Trust.  When your livelihood disappears we don't want to be the guys asking comedians to work for free.
The event will take place on Saturday 30th May 2020 at 7pm (UK time). You will be sent a link to watch on Saturday evening.
You can purchase a link to the live stream or alternatively join our 'front row' seats where the performers will be able to see and interact with you on Zoom (make sure you have a webcam and microphone).
Finally – please be warned that strong language will be used from the beginning and this may not be suitable for children.
THE CHARITY

The Trussell Trust support a nationwide network of food banks and together  provide emergency food and support to people locked in poverty, and campaign for change to end the need for food banks in the UK.
In the UK, more than 14 million people are living in poverty – including 4.5 million children. TT support more than 1,200 food bank centres in the UK to provide a minimum of three days' nutritionally-balanced emergency food to people who have been referred in crisis, as well as support to help people resolve the crises they face. Between April 2018 and March 2019, food banks in their network provided a record 1.6 million food supplies to people in crisis, a 19% increase on the previous year.
We know it takes more than food to end hunger. That's why we bring together the experiences of food banks in our network to challenge the structural economic issues that lock people in poverty, and campaign to end the need for food banks in the UK.
YOUR TICKET
You will receive your ticket on Saturday evening. Check our FAQs for more information!