The Covid Arms 1st Birthday Party – Sat 27 March 2021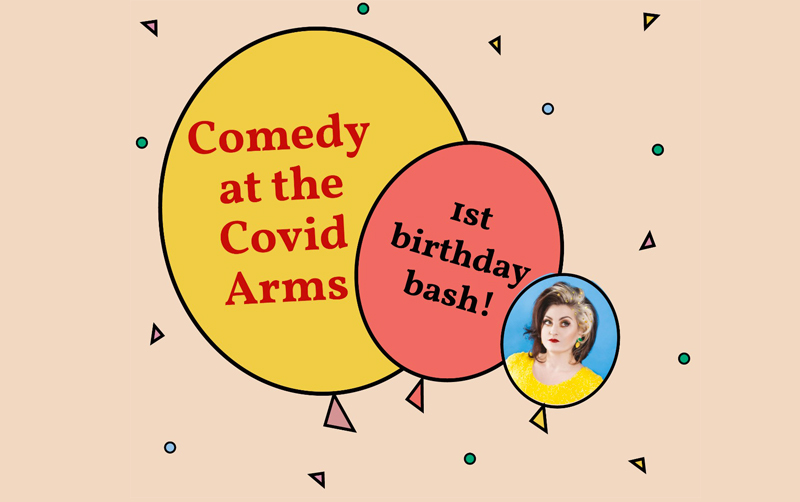 THE EVENT
After a sensationally successful 22 online shows, The Covid Arms returns with our trademark raucous, interactive online comedy night from the brightest and best of the UK comedy scene, hosted by Kiri Pritchard Mclean.
The Covid Arms has become a rare success story of 2020, starting off life as a Whatsapp group of friends, and turning into a popular internet pub that has welcomed everyone from Frankie Boyle to Nish Kumar, Harry Hill to Lolly Adefope. In total, the gigs have raised over £110,000 for the food bank charity The Trussell Trust.
Expect big laughs, signature competitions and a smorgasbord of excellent comedians, including some of your favourites from TV.
The event will take place on Saturday 27th March 2021 at 7pm (UK time).
Throughout the evening we'll be giving away beer as part of our themed competition which anyone can take part in. Those in the 'virtual front row' will also be able to join a dance off with the winner getting a slab of delicious Beavertown beer!
Finally – please be warned that strong language will be used from the beginning and this may not be suitable for children.
THE CHARITY

The Trussell Trust support a nationwide network of food banks and together  provide emergency food and support to people locked in poverty, and campaign for change to end the need for food banks in the UK.
In the UK, more than 14 million people are living in poverty – including 4.5 million children. TT support more than 1,200 food bank centres in the UK to provide a minimum of three days' nutritionally-balanced emergency food to people who have been referred in crisis, as well as support to help people resolve the crises they face. Between April 2018 and March 2019, food banks in their network provided a record 1.6 million food supplies to people in crisis, a 19% increase on the previous year.
We know it takes more than food to end hunger. That's why we bring together the experiences of food banks in our network to challenge the structural economic issues that lock people in poverty, and campaign to end the need for food banks in the UK.
YOUR TICKET
You will receive your ticket immediately upon purchase. Follow the link in your confirmation email to watch the show. Check our FAQs for more information!