Buy Tickets Now
Tickets only available until 5pm on Saturday 16th May 2020.
THE ACTS
Kiri Pritchard-McLean
Your host is Welsh Comedian Kiri Pritchard-Mclean – a double Chortle Award winning stand up comedian, writer and satirist. Recent television appearances include Have I Got News For You, The Russell Howard Hour (which she writes on) and Stand Up Central. Kiri hosted both Stand Up at BBC Wales and Wales at the Edinburgh Fringe for the BBC where she introduces a throng of the most exciting comics in the UK. She will be in upcoming episodes of Hypothetical, Roast Battle and the Comedy Central Specials.
A regular on BBC radio, Kiri has appeared many times on The Now Show and the News Quiz. She often co-hosts on Rhod Gilbert's radio show and guest hosted Newsjack Extra. Kiri is a writing/ directing member of Foster's Comedy Award nominated sketch group Gein's Family Giftshop who have a third installment of their radio series in the pipeline.
Kiri is a co-creator and co-host of both the All Killa No Filla podcast and the live juggernaut Amusical. All Killa No Filla is a podcast about serial killers that has a gigantic following worldwide. Co hosted with Rachel Fairburn, the podcast's live adaptation sold out The Leicester Square Theatre in minutes and toured the United States. Amusical is a phenomena that started in Backyard Comedy Comedy and has run monthly for just over a year. Comedians sing their favourite songs from the musicals, hosted by Kiri with Jayde Adams and house band Dave and the Quavers. In the short time since it's conception it has sold out the Pleasance Grand in Edinburgh twice and been made into a pilot with Burning Bright for Comedy Central.
Tez Ilyas
Tez Ilyas hit the ground running. In his first three years as a stand up, he found himself in no less than eight competition finals including the prestigious BBC New Comedy Award and Leicester Mercury New Comedian of the Year.
In 2015, Tez achieved phenomenal success with his debut stand up hour TEZ Talks. A sell out run at the Soho Theatre and his own BBC Radio 4 series based on the show followed; Tez created three series of the hit radio show and it was used by the BBC as one of its flagship shows for the launch of BBC Sounds.
In 2016, his highly anticipated follow up show, Made in Britain, went on to sell out every single performance (including extra shows) at the Edinburgh Fringe and gained spectacular critical acclaim, with a smash hit nationwide tour in 2017.
His third show, Teztify, once again delivered a spectacularly powerful, provocative and brilliantly funny hour of topical stand up, delivering to packed out audiences night after night, followed in 2018 by his second sell-out nationwide tour.
Tez is one of the stars of hit sitcom Man Like Mobeen (BBC Three), and has appeared on Mock the Week (BBC Two), The Last Leg (Channel 4), Live From the BBC (BBC Two), Live from the Comedy Store (Comedy Central), Kevin Hart's Live from Montreal (LOL Network), Virtually Famous (E4), The Now Show (BBC Radio 4) and starred in both his own Channel 4 comedy pilot, Bounty (which has become the most watched show in the format's 10 year history), and fronted his own satirical entertainment series, The Tez O'Clock Show (Channel 4), to huge critical acclaim.
Eleanor Tiernan
Comedian and writer Eleanor Tiernan has been a panellist on BBC Radio 4's News Quiz and Where's the F In News? and The Blame Game (BBC Northern Ireland). Her stand up has featured on Comedy Central's The Alternative Comedy Experience and she has supported acts including Stewart Lee, Tig Notaro, Ardal O'Hanlon, Jason Manford, Jason Byrne and Reginald D. Hunter.
Eleanor's style is "deceptively sharp" (Fest Mag) and filled with her trademark acerbic wit.
Her solo shows regularly receive rave reviews (33 must-see shows of the 2019 Melbourne International Comedy Festival, Herald Sun) and she has been featured on Sunday Times list of Top Ten Female Stand Ups To Watch and Chortle's 2019: The ones to watch.
She has been invited to perform at Montreal Just For Laughs, Melbourne International Comedy, Kilkenny Cat Laughs. Vodafone Comedy Festival (Dublin), Latitude and Glastonbury.
Other credits include Monumental (BBC NI), The Craig Doyle Show (RTÉ), Headwreckers (Channel Four), Stand and Deliver (RTÉ), The Panel (RTÉ), The Savage Eye (RTÉ), Republic of Telly (RTÉ) and Bad Language (BBC Radio Scotland). She also played Mary in a critically acclaimed run of John Breen play Alone It Stands in theatres across Ireland and appeared as Dolores in the RTÉ sitcom Bridget and Eamon.
Iain Stirling
BAFTA-winning comedian Iain Stirling is best known as the brilliantly funny voice of the hit reality show Love Island (ITV2), which is now in its fifth series. Following his success on Love Island, he took on the role of host for ITV2's new physical comedy entertainment show, CelebAbility (now in its third series).
A driving force behind the concept of comedy panel show The Dog Ate My Homework (CBBC), Iain has co-written and hosted six series which saw him win 2018's RTS Scotland's On Screen Personality and 2017's Children's BAFTA Best Presenter Award (2017).
A regular voice on the radio too, Iain has made appearances on programs including The Now Show and Dilemma (both BBC Radio 4), Afternoon Edition and Fighting Talk (both BBC Radio 5 Live), Cel Spellman, Charlie Sloth and Greg James (BBC Radio One) and recorded a Radio One takeover.
Beginning to make a name for himself internationally, Iain has performed at the Melbourne International Comedy Festival and New Zealand Comedy Festival.
2019 saw Iain appear in series 8 of Taskmaster (DAVE) and a new six part comedy series, Comedy Bus (Comedy Central) featuring five other comedians as they travel together to their respective hometowns. This adds to an extensive list of television credits including, The Russell Howard Hour, Comedians Watching Football with Friends (Sky One), The Jonathan Ross Show (ITV1), Saturday Kitchen (BBC One), Russell Howard's Stand Up Central, The Chris Ramsey Show, Drunk History and The Comedy Store (Comedy Central), The Big Narstie Show (Channel 4), Unpsun with Matt Forde (DAVE) plus an array of panel shows, such as Celebrity Juice, Fake Reaction, Safe Word (ITV2) and Virtually Famous (E4).
 2020 sees Iain embark on his biggest nationwide tour to date with brand-new show, Failing Upwards. In October 2019 it was announced that the Edinburgh date of his tour will be recorded for publication on Amazon Prime Video.
Martha Ffion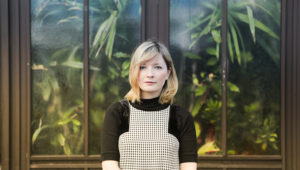 Martha Ffion is the musical project of Claire Martha Ffion McKay. Raised in Warrenpoint, in the North of Ireland, McKay began writing music when she moved to Glasgow, aged 18. Her debut album, 'Sunday Best' was released in March 2018 and was among twenty albums long-listed for 2018's Scottish Album of the Year (SAY) prize, alongside the likes of Franz Ferdinand, Mogwai and Young Fathers. Her sophomore album, 'Nights To Forget' will be released on Lost Map Records in August 2020.
THE EVENT
Enjoy some of the best comedy and entertainment out there from the comfort of your very favourite armchair. Our comics will be streaming from their homes all over the UK.
*Please note you will only be able to buy a ticket until 5pm on the day of the performance.*
The money we raise will be split between performers and the Trussell Trust.  When your livelihood disappears we don't want to be the guys asking comedians to work for free.
The event will take place on Saturday 16th May 2020 at 7pm (UK time). You will be sent a link to watch on Saturday evening.
You can purchase a link to the live stream or alternatively join our 'front row' seats where the performers will be able to see and interact with you on Zoom (make sure you have a webcam and microphone).
Finally – please be warned that strong language will be used from the beginning and this may not be suitable for children.
THE CHARITY

The Trussell Trust support a nationwide network of food banks and together  provide emergency food and support to people locked in poverty, and campaign for change to end the need for food banks in the UK.
In the UK, more than 14 million people are living in poverty – including 4.5 million children. TT support more than 1,200 food bank centres in the UK to provide a minimum of three days' nutritionally-balanced emergency food to people who have been referred in crisis, as well as support to help people resolve the crises they face. Between April 2018 and March 2019, food banks in their network provided a record 1.6 million food supplies to people in crisis, a 19% increase on the previous year.
We know it takes more than food to end hunger. That's why we bring together the experiences of food banks in our network to challenge the structural economic issues that lock people in poverty, and campaign to end the need for food banks in the UK.