THE EVENT
For every ticket sold we will gift at least one to an NHS worker.
After a sensationally successful 20 online shows, The Covid Arms returns with our trademark raucous, interactive online comedy night from the brightest and best of the UK comedy scene, including Kiri Pritchard-McLean, Desiree Burch, Lauren Patterson and more TBC.
The Covid Arms has become a rare success story of 2020, starting off life as a Whatsapp group of friends, and turning into a popular internet pub that has welcomed everyone from Frankie Boyle to Nish Kumar, Harry Hill to Lolly Adefope. In total, the gigs have raised over £110,000 for the food bank charity The Trussell Trust.
Expect big laughs, signature competitions and a smorgasbord of excellent comedians, including some of your favourites from TV.
The event will take place on Saturday 23rd January 2021 at 7pm (UK time).
Your ticket will allow you to watch the event through YouTube. Throughout the evening we'll be giving away beer as part of our themed competition which anyone can take part in. Those in the 'virtual front row' will also be able to join a dance off with the winner getting a slab of delicious Beavertown beer!
Finally – please be warned that strong language will be used from the beginning and this may not be suitable for children.
THE CHARITY

The Trussell Trust support a nationwide network of food banks and together  provide emergency food and support to people locked in poverty, and campaign for change to end the need for food banks in the UK.
In the UK, more than 14 million people are living in poverty – including 4.5 million children. TT support more than 1,200 food bank centres in the UK to provide a minimum of three days' nutritionally-balanced emergency food to people who have been referred in crisis, as well as support to help people resolve the crises they face. Between April 2018 and March 2019, food banks in their network provided a record 1.6 million food supplies to people in crisis, a 19% increase on the previous year.
We know it takes more than food to end hunger. That's why we bring together the experiences of food banks in our network to challenge the structural economic issues that lock people in poverty, and campaign to end the need for food banks in the UK.
YOUR TICKET
You will receive your ticket immediately upon purchase. Follow the link in your confirmation email to watch the show. Check our FAQs for more information!
THE ACTS
KIRI PRITCHARD MCLEAN

Your host is Welsh Comedian Kiri Pritchard-Mclean – a double Chortle Award winning stand up comedian, writer and satirist. Recent television appearances include Have I Got News For You, The Russell Howard Hour (which she writes on) and Stand Up Central. Kiri hosted both Stand Up at BBC Wales and Wales at the Edinburgh Fringe for the BBC where she introduces a throng of the most exciting comics in the UK. She will be in upcoming episodes of Hypothetical, Roast Battle and the Comedy Central Specials.
A regular on BBC radio, Kiri has appeared many times on The Now Show and the News Quiz. She often co-hosts on Rhod Gilbert's radio show and guest hosted Newsjack Extra. Kiri is a writing/ directing member of Foster's Comedy Award nominated sketch group Gein's Family Giftshop who have a third installment of their radio series in the pipeline.
Kiri is a co-creator and co-host of both the All Killa No Filla podcast and the live juggernaut Amusical. All Killa No Filla is a podcast about serial killers that has a gigantic following worldwide. Co hosted with Rachel Fairburn, the podcast's live adaptation sold out The Leicester Square Theatre in minutes and toured the United States. Amusical is a phenomena that started in Backyard Comedy Comedy and has run monthly for just over a year. Comedians sing their favourite songs from the musicals, hosted by Kiri with Jayde Adams and house band Dave and the Quavers. In the short time since it's conception it has sold out the Pleasance Grand in Edinburgh twice and been made into a pilot with Burning Bright for Comedy Central.
ADAM BUXTON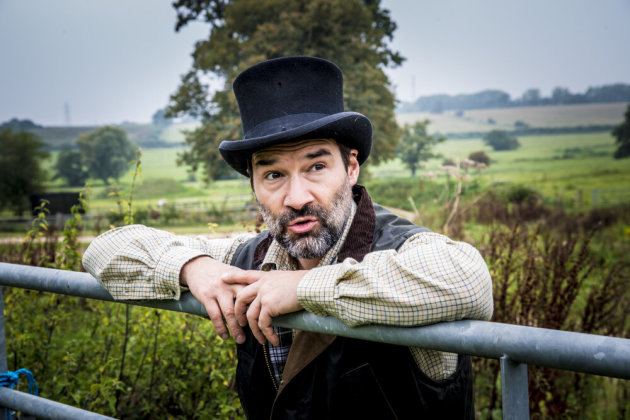 Adam Buxton is a British comedian, actor and director who has appeared in films such as 'Hot Fuzz', 'Stardust' and 'Son Of Rambow' as well as a variety of TV shows in the UK. He is the host of the Adam Buxton Podcast, generally agreed to be the best interview podcast in the world (citation needed). Since 2007 he has hosted 'BUG', a bi monthly live show that combines music videos and comedy that became a TV series on Sky Atlantic in 2012. Along with lifelong friend Joe Cornish he also is one half of award winning TV, radio and podcast duo Adam & Joe who have worked together since 1995. In 2020 Adam published his first book, Ramble Book, which contains humorous essays and stories about his life and career thus far and has gone on to be an Audible best seller. He will be touring a show based on the book in 2021. Adam has appeared as Jarhead in the last three series of Channel 4's The Crystal Maze.
'Buxton displays a near heroic willingness to behave as stupidly as possible in pursuit of laughs. A sunny riot of daft voices, songs, and tortuous puns' (The Scotsman)
'Would make a convincing claim to the title of funniest man in Britain' (Three Weeks)
'Wonderful fun' (The Guardian).
Official website adam-buxton.co.uk
LOST VOICE GUY

BGT 2018 winner Lee Ridley, aka Lost Voice Guy, is disabled but not silent. Born with Cerebral Palsy, complications at birth resulted in Lee losing his ability to speak. Undaunted, Lee started performing stand up comedy in 2012 using an iPad tablet computer, and after an unprecedented meteoric rise and publicity from local and national press, is now headlining comedy clubs across the country.
'A wondeful comedian' (Matt Lucas)
'A very funny guy' (Ross Noble).
Official website lostvoiceguy.com
DESIREE BURCH

Raised in L.A., developed artistically in NY and currently resides in London. Her brash and energetic comedy style has been seen on NBC and E4, and made her the winner of the 2015 Funny Women Stage Award for stand-up. As a writer and performer, she makes raw and gutsy work. Her critically-acclaimed solo show 52 Man Pickup has toured internationally and her solo piece Tar Baby won a 2015 Fringe First for new writing at the Edinburgh International Festival Fringe.
In 2015, Desiree Burch, "a larger than life New Yorker… who brought the roof down" (–The Independent), won the Funny Women stage award for stand-up comedy.
On screen, Desiree has been featured on E4s World's Greatest Bodyshockers and NBC's Before the Morning After. Huffington Post has listed her as one of their Favorite Female Comedians.
Live comedy credits include Spank, Angel Comedy, Greg Shapiro Presents, Shaggers, Right Now! with Carolyn Castiglia, Wyatt Cenac's Night Train, and The Big C Comedy Gala in Edinburgh.
Official website desireeburch.com
LAUREN PATTISON

From Newcastle-on-Tyne and one of the brightest young talents on the comedy scene who is beginning to make her presence known across the country. Finishing runner-up in 2014's Funny Women, she went on to make the finals of almost every major comedy competition, including the prestigious BBC New Comedy Award in 2016.
In August 2017 Lauren sold out her debut run at the Edinburgh Fringe Festival with her critically acclaimed show Lady Muck. This 5 star show was so popular three extra shows were added and subsequently sold out. Not only was 'Lady Muck' the best reviewed show at The Pleasance this year, Lauren also won a Herald Angel Award and was nominated for Best Newcomer 2017 at the Edinburgh Comedy Awards.
Official website facebook.com/laurenpattisoncomedy
MUSIC FROM EVE GOODMAN
Eve Goodman is a young woman who transmutes the personal into the universal. After her degree in Literature, Eve left Cardiff to live in a cabin on a Cornish farm, where she wrote and recorded her first EP, Low Sun.
Eve has now returned to the mountains of North Wales. Her current writing explores the territory of grief, and rising up after losing her father. Against her loss, Eve offers the quiet harmony of a voice who is finding joy again. If you sit, listen and wait, this beautifully crafted new folk light, will unveil earth, soul and a deep connection to what it is to be human in these troubled, inspiring times.
2018 saw the release of her second EP, Straeon I Ganeuon, a bilingual collection of songs written during her artist residency in the CARNafan (a 'creative caravan' space) in Caernarfon. The songs draw from the stories of the locals, breathing new light into old tales, echoing the ancient folk tradition of storytelling.
In 2019 Eve was chosen by the BBC as one of twelve Horizons/Gorwelion artists from Wales.
This winter Eve is writing her first album and will record her third EP:  a collection of songs inspired by women and the sea. She is also working on collaborations with fellow Horizons artist, SERA.
"Eve Goodman possesses a rare magic" From the Margins
Official website http://www.evegoodman.co.uk/