Saturday 17th October 2020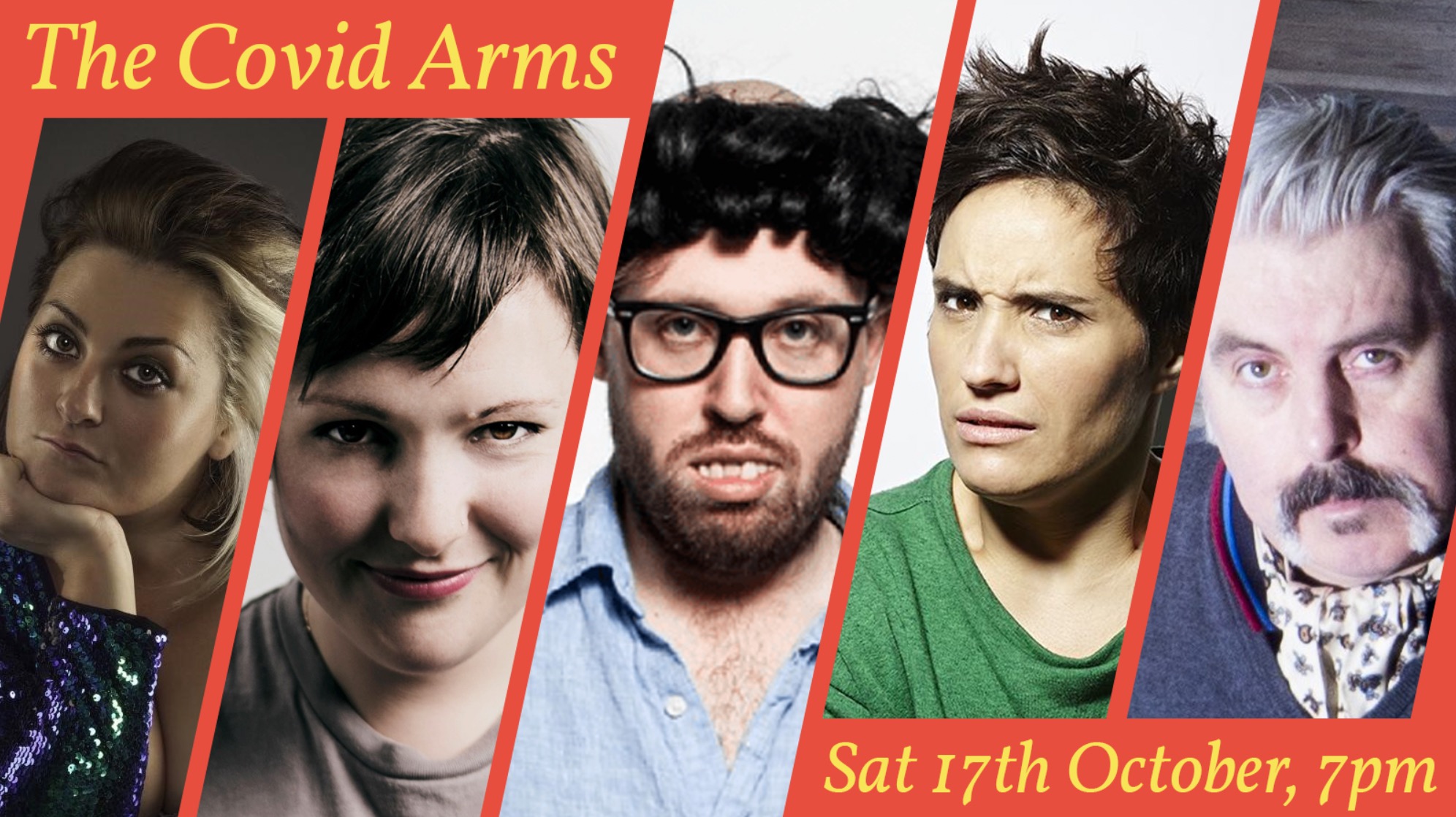 THE ACTS
Kiri Pritchard-Mclean
The landlady of The Covid Arms is Welsh Comedian Kiri Pritchard-Mclean – a double Chortle Award winning stand up comedian, writer and satirist. Recent television appearances include Have I Got News For You, The Russell Howard Hour (which she writes on) and Stand Up Central. Kiri hosted both Stand Up at BBC Wales and Wales at the Edinburgh Fringe for the BBC where she introduces a throng of the most exciting comics in the UK. She will be in upcoming episodes of Hypothetical, Roast Battle and the Comedy Central Specials.
A regular on BBC radio, Kiri has appeared many times on The Now Show and the News Quiz.
Kiri is a co-creator and co-host of both the All Killa No Filla podcast and the live juggernaut Amusical. All Killa No Filla is a podcast about serial killers that has a gigantic following worldwide. Co hosted with Rachel Fairburn, the podcast's live adaptation sold out The Leicester Square Theatre in minutes and toured the United States.
Josie Long
Claiming her first BBC Comedy Award by the age of 17, Josie returned to performing after finishing University, notably at the Edinburgh Fringe, where she carried on winning awards for 'Kindness and Exuberance' (Best Newcomer) and later in 2007/8 for 'Trying Is Good'.
She regularly writes for The Guardian and has appeared on The Island (Channel 4), The Superhuman's Show (Channel 4), Russell Howard's Stand Up Central (Comedy Central) and Dara O'Briain's Go 8 Bit.
The Telegraph have described her as 'one of the most exciting female comics around'. Josie's humour is warm, optimistic and endearing, filled with rambling daft tales and all the things she likes in the world and which cheer her up.
'An original and unflagging spirit, oozing enthusiasm and intellect… Long builds delightful comedy worlds' (The Times)
'An absolute delight' (Time Out)
'An original and unflagging spirit… A passion for ideas and creativity… this is a lovely show' (The Guardian).
Official website josielong.com
John Kearns
The most original, odd, off-beat and hilarious alternative comic to arise this decade, John Kearns is an act who has forged his own raggedy path all the way to success.
London-based comedian and Winner of the Foster's Edinburgh Comedy Award, Best Newcomer 2013.
'Tremendous originality… a jumpy and unpredictable raconteur… a shot of nervous energy, an elastic band about to snap… I can't see him waiting in reserve for long' (Broadyway Baby)
'… brilliantly bonkers' (Time Out)
'Now THIS is how you do absurd comedy' (www.Chortle.co.uk).
Jen Brister
Jen is a critically acclaimed stand up comedian, writer and actor. She is a regular performer on the UK and international comedy circuits. She has written for BBC Scotland, presented for BBC 6 Music and Juice FM, and has been a regular contributor to magazines and online sites including Diva, g3, Standard Issue and The Huffington Post.
Jen has written and performed five solo shows (Me My Mum & I, British(ish), Now & Then, Wishful Thinking, and The Other One) around the world, including at Melbourne International Comedy Festival, Norway Comedy Box Festival, Comedy Club Asia, Adelaide Festival and the Edinburgh Festival. She has toured extensively — with comedians Kerry Godliman, Francesca Martinez and Roisin Conaty, among others — and is currently supporting Frankie Boyle in London.
Jen has performed with Russell Brand on his radio comedy Cloud Cuckoo for Radio 2, in Kerry Godliman's sitcom, Kerry's List, for Radio 4, and has performed stand up on Comedy Central in Live at the Comedy Store.
Mick Ferry
Popular circuit comedian and regular compere for several comedy nights. He is probably best known for his Comedy Store improvisations, but after starting his professional career as a support act for Peter Kay he was soon selling out his own one-man shows, and things look like they are only going to get better for Derker's most famous son.
On TV Mick has starred in BBC1`s Michael McIntyre's Comedy Roadshow as well as Comedy Blue and The Comedy Store (both Comedy Central). He made his big screen debut in 2009 in Ken Loach's Looking For Eric – a hit feature film at the Cannes film festival where it was nominated for the prestigious Palm D'Or. A prolific comic, he is a writer on John Bishop's Britain (BBC1) and has helped make the show a ratings success.
'See him or regret it' (John Bishop)
'Absolute legend, incredibly funny' (Jason Manford)
'Performs with style and conviction… highly enjoyable' (Chortle).
Izzy Rabey
Izzy is a Theatre Director, Drama Practitioner and Singer-Songwriter/bilingual rapper who divides her time between London and Cardiff. She is Trainee Director at The Royal Court and an Emerging Director with National Theatre Wales. Izzy is Artistic Director of Run Amok Theatre Company (@theatrrunamok) and Under The Sun/Dan Yr Haul (a festival-going Applied Drama company). Izzy is one half of Alternative Punk/Folk/RnB duo The Mermerings (@the_mermerings) and is currently collaborating with Welsh producer/singer Eadyth Crawford on a bilingual Neo Soul/Hip Hop EP titled 'Mas O Ma', which is out this October.
THE EVENT
The Covid Arms returns for one mighty night of monthly live comedy streamed directly to your living room!
The money we raise from this performance will be split between the performers themselves and The Trussell Trust. When your livelihood disappears we don't want to be the guys asking comedians to work for free.
The event will take place on Saturday 17th September 2020 at 7pm (UK time).
If regulations allow we'll be running a 'hybrid' gig which will mean that Kiri will be presenting the night in front of a live, socially distanced, audience. The comedians will perform from their very own homes so you'll be able to judge their wallpaper and bookcases intimately.
You can purchase a link to the live stream for just £2 or alternatively join our 'virtual front row' seats where the performers will be able to interact with you at key segments of the night on Zoom. Throughout the evening we'll be giving away beer as part of our themed competition which anyone can take part in. Those in the 'virtual front row' will also be able to join a dance off with the winner getting a slab of delicious Beavertown beer!
Finally – please be warned that strong language will be used from the beginning and this may not be suitable for children.
THE CHARITY

The Trussell Trust support a nationwide network of food banks and together  provide emergency food and support to people locked in poverty, and campaign for change to end the need for food banks in the UK.
In the UK, more than 14 million people are living in poverty – including 4.5 million children. TT support more than 1,200 food bank centres in the UK to provide a minimum of three days' nutritionally-balanced emergency food to people who have been referred in crisis, as well as support to help people resolve the crises they face. Between April 2018 and March 2019, food banks in their network provided a record 1.6 million food supplies to people in crisis, a 19% increase on the previous year.
We know it takes more than food to end hunger. That's why we bring together the experiences of food banks in our network to challenge the structural economic issues that lock people in poverty, and campaign to end the need for food banks in the UK.
YOUR TICKET
You will receive your ticket on Saturday evening. Check our FAQs for more information!